Forecourt Control System
Designed to increase the productivity of your business!
Forecourt Control System StationGuard is the ideal solution for managing all forecourt operations, using IFSF open source protocol.
Equipment such as Fuel Dispensers, Tank Gauging Systems, Car Wash, Price Polls, POS Systems, Payment Terminals and RF Solutions can all be managed by one system that Automates, Simplifies and Secures Forecourt Control Applications
Forecourt Control System StationGuard is a windows-based application, compatible with all major international fuel dispenser manufacturers.
Complete StationGuard Network for the Petrol Station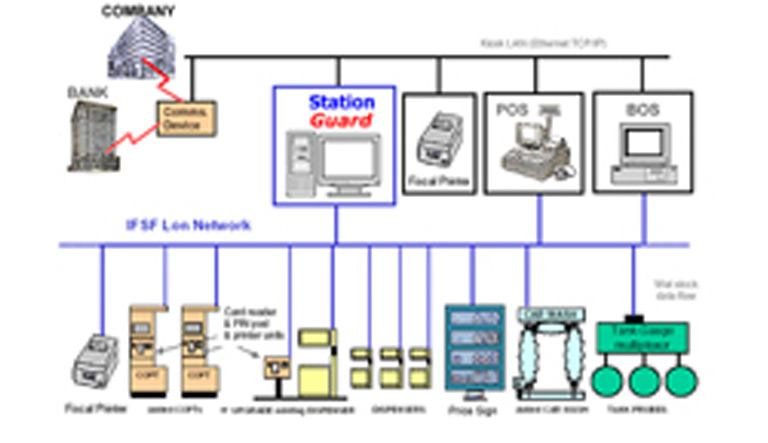 Connectivity via network, internet or GSM/GPRS ensures the data transmitted are monitored by local and/or remote users and administrators.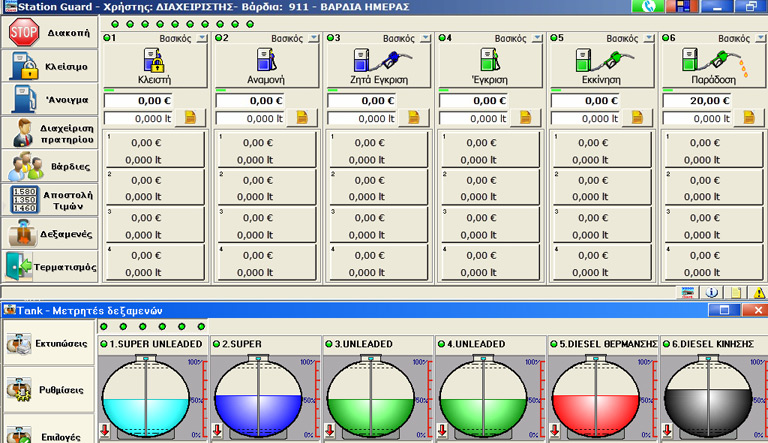 StationGuard is fully expandable to your future needs or requirements.
Monitoring of all operations is provided at all levels. Local monitoring by the administrator is combined with main control from the back office.
Main Features & Benefits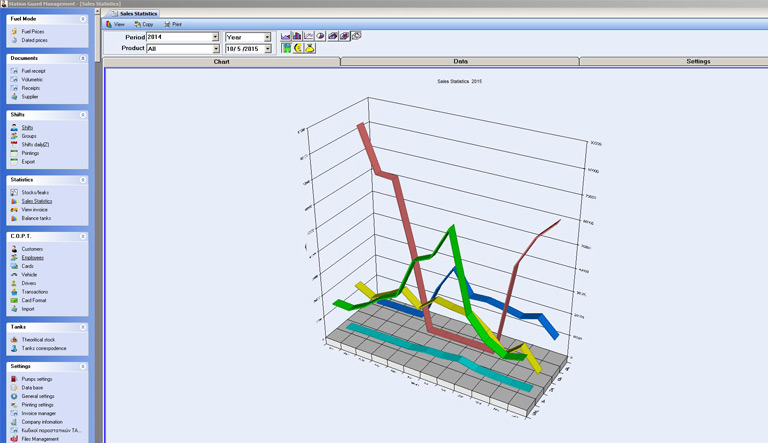 All data always available at all levels.
Ergonomic use, optional touch screen operation.
Interfaces for connection with all major Fuel Pumps Manufacturers.
Transactions monitoring and control for 44 retail points (fuel points).
Inventory control for all wet products.
Ability to operate with 8 different Price Lists (Fuel Modes).
Time scheduled change of price lists.
Unlimited number of products, with 8 different products per pump.
Unlimited number of users.
Preset amount and volume, with selection of specific nozzle and product.
Status monitoring & control for each dispenser.
Emergency button.
Connection with Tank Gauging Systems.
Multiple Reporting Tools & Print-Outs (totals per shift/day/date, totals per pump/nozzle/product, totals per price list).
Reporting Tools & Print-Outs for transactions per mode of payment.
Available in different languages.
Connectivity with fiscal printer, POS, remote operation etc.
Registration of purchasing invoices for wet products.
Leakage reports.
Optional Leak Detection.
Optional Dynamic Leak Detection.
Optional operation with RFID tags for reporting per forecourt assistant.
Optional operation with OPT's.
Optional Fleet Management Operation, with monitoring & reporting of all vehicles' refuelling, cost centres, vehicle's groups, mileage per vehicle etc.
Optional module for Central Management of different braches.
User Interface
Operation mode.
Side number of fuel dispenser.
Price list.
Operation status.
Number of active nozzles.
Current transaction (value).
Current transaction (volume).
Current transaction (product).
Previous transactions.
Uncollected transaction.