Fleet Management Systems
The ongoing development of Commercial (Industrial) In-House refueling sites, in combination with the complex conditions of the business and legal environment, have created the need for suitable management systems.
Spyrides Group, the leadimg company in Petroleum Equipment Industry in Balkans, has developed Fleet Guard Application to meet all market's sophisticated needs.
Fleet Guard is a modern and effective management system, which meets all legal requirements and provides a safe and fully automated environment for fleet vehicles' refueling.
Our Comprehensive In-House Refueling Site Management System consists of:
Station Guard System, for fleet management in a centralized processing and reporting environment.
Consolidated Central Management Module, for all remote refueling sites.
Vehicle Recognition & Authorization System.
Consolidated Central Management Module
Connection with all ERP systems.
On Premise or Cloud software installation.
On Premise or Cloud back up, with optional upgrade to full, differential or incremental back up.
Centralized monitoring and control for multiple sites/vehicles.
Multiple reports for all managerial needs.
Refueling Site
Fiscal system compatible with all legal requirements.
Software for monitoring, registration and authorization of all refuelings.
Accurate tank inventories monitoring (Alarms, leak detection, OIML R85 accuracy).
Compatible with all well established Fuel Pumps manufacturers.
Vehicle Recognition & Authorization System
Multiple security levels, depending on each customer's needs and requirements.
Automatic vehicle recognition by using rings (RFID – ATEX) and mileage-operating hours data transmission.
Additional driver authorization (if required).
Additional PIN authorization (if required).
Consumption limits per period, vehicle, group of vehicles or combination.
Fleet Guard Management System
For all authorized refuelings, the software collects, processes and stores the following data:
Fuel type and quantity.
Vehicle's tag.
Mileage or operating hours.
Driver's tag/PIN (if required).
Nozzle's tag.
Refueling site (terminal).
Time & Date.
Multiple Vehicle Recognition Options
TAGS
Refueling authorization by using:
RFID Cards / RFID Tags.
Mileage / operating hours input, for consumption rates control.
Additional driver's data input.
RINGS
Automatic vehicle recognition and authorization by using RFID rings, installed in the reservoir neck.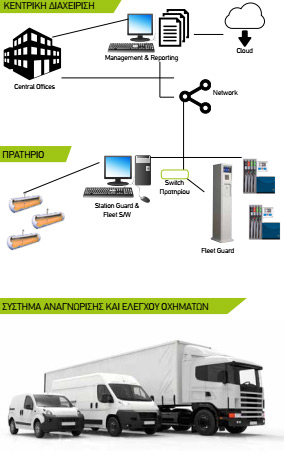 RINGS & MILEAGE METER

By using RFID rings, an automatic mileage / operating hours data transmission is possible.
The RFID ring (tag) is installed (no cables) at the reservoir's neck, so as to identify each vehicle. The dispenser's nozzle is also equipped with an RFID receiver, which identifies the vehicle's tag, and transmits data (wireless transmission) to the system.
The system then tracks the vehicle's identification code in the database, checks its status, and authorizes the pump to provide fuel, according to the limits and restrictions set for this vehicle. Fuel goes directly to vehicle's reservoir, for if nozzle's receiver is not near the RFID tag, refueling process stops. If RFID tag from the reservoir's neck is removed, it is immediately deactivated, ensuring system's integrity.
At the same time, a device is installed in the vehicle's mileage system, which automatically transmits data (mileage/operating hours) to the system during refueling.
Solutions for Private Stations