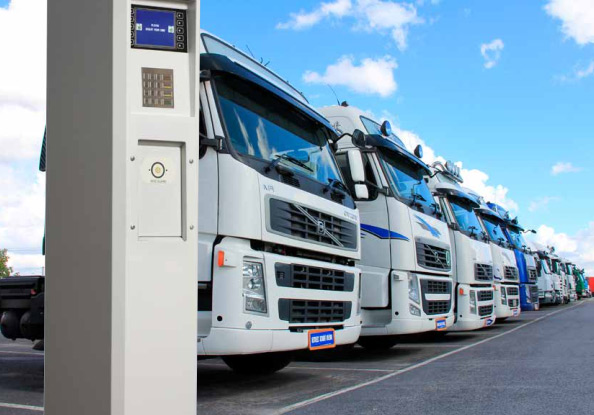 Building or Renovating an Internal (Industrial) Refuelling Site
By using an Internal (Industrial) Site for your Fleet of Vehicles (Transportation Companies, Quarries, Industrial Companies, Construction Companies, Public Sector etc.) you have immediate measurable benefits.
Our Fleet Management Systems enable you to have:
Savings in fuel costs, since you purchase fuel directly from Petroleum Companies and not from the Retain Network.
New, modern equipment on-site.
Better fuel quality, resulting in lower maintenance costs for your vehicles.
Constant consumption monitoring and reporting per vehicle / group of vehicles.
Less administrtive costs, since you do not have multiple refuelling invoices per vehicle to check and register.
Full control on the fuel quantities received and constant stock monitoring.
Fully controlled, automated refilling process for all drivers / vehicles. No site attendant needed, since pump is electronically controlled (locked) and authorized only by card / tag / ring.
User-friendly Backoffice Managerial Software that can be further connected to Accounting Software or ERP Systems.
We have already delivered numerous Internal Refilling Sites Projects for various of our customers, like:
Transportation Companies
3rd Party Logistics Providers (distribution vehicles, forklifts, sales force vehicles etc.)
Super Markets
Security Companies
Industrial Companies with distribution fleet, sales force fleet etc.
Construction Companies (Construction works equipment)
Quaries
Public Sector (Police, Municipalities, Post Office, Fire Department, Public Buses Companies, Utilities Sector Providers etc.)
Marine Filling Stations etc.